Ivor GREGOR MACGREGOR 1894 - 1952
Ivor Gregor Macgregor was born on 25th April 1894 at Shoreham in Sussex. His father was Peter Macgregor and his mother was Christiania Jennings (nee Hubbard).
By the age of 7 he was an orphan, as first his mother and then his father died. He and his brothers Peter and Claude fell under the wardship of William York Macgregor, their uncle. They moved from Hove, first to be placed under the care of Mrs Lermanshand at Herne Bay for three months at a board of £30 for the period, preparatory to being sent to Dollar, which is near Bridge of Allen.
Here a home had been secured for them at a board of £150 per annum, with Miss Marshall, of Islay Cottage, Dollar. There they received tuition at home and in a preparatory school until they were sufficiently advanced to be admitted into the Dollar Academy.
At the age of nineteen Ivor became a Cadet with the Royal Naval Reserve, serving in the Merchant Navy. He became a Midshipman on 1st April 1913.
With the outbreak of war, Ivor joined HMS Formidable on 1st July 1914 and served on her until the 26th December 1914.
The Pre-Dreadnought was part of the 5th battle squadron, which patrolled the vital channel sector from Dungeness to Selsey. One of their main duties was to oversee the ferrying of troops across the Channel to Flanders.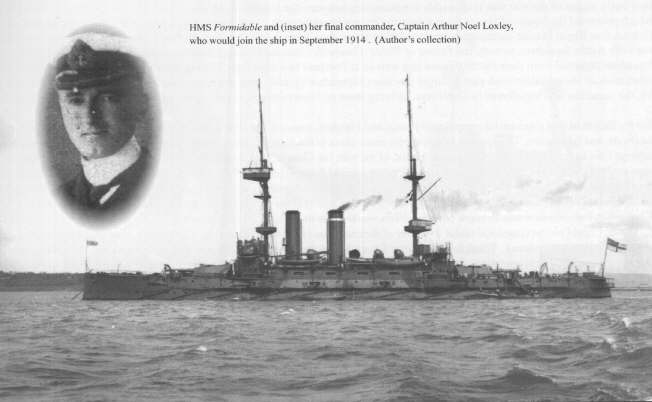 This move probably saved Ivor's life as on the 31st December 1914 the Formidable was sink by the U-24 with the loss of 547 men out of a crew of 747. This story is told in the excellent book "Before the Bells have Faded" by Mark Potts and Tony Marks, published by Wonderworks Studios Ltd in 2004; ISBN 0-9528760-6-10. http://www.wonderworks.co.uk email: sales@wonderworks.co.uk
<![if !vml]>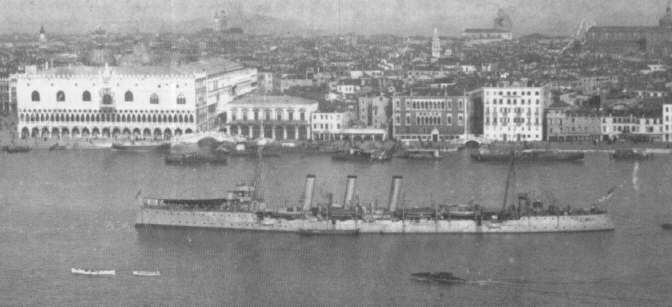 <![endif]>From HMS Formidable, Ivor joined HMS Diamond on 26th December 1914. This was a Light Cruiser of 3,000 tons with 12; 4inch guns and was commanded by Captain Lionel J O Lambert. Ivor served on her until the 18th January 1917.

Ivor

was appointed a Sub Lieutenant on 25th April 1916.

Ivor served on the "Q" Ship HMS Paxton (Q25) from 1st February 1917. German U-Boats were targeting the merchant shipping of British and non-belligerent countries, sinking them at will, often using their guns to save expensive torpedoes. Q Ships were used with some success against the menace of German U-Boats.

The Q Ship was designed to look like an ordinary merchantman, but at an appropriate time after a U-Boat attack, the White Ensign was run up the flagpole. The disguise would be removed to reveal powerful guns, which were used in an attempt to destroy the U-Boat.

The U-Boat would have to be decoyed close enough (no more than 1,000 yards) for the guns to be effective. This involved no small danger, as it had to be done as the U-Boat was shelling the Q Ship and without the Q Ship giving any indication that there was a crew still on board the "abandoned" merchant ship.

It was in one of these attacks on 20th May 1917 that HMS Paxton was hit by a torpedo, fired by a U-Boat, and sunk. Ivor was wounded and remained in the water for a number of hours. For his valour in this encounter he was awarded DSC.

On 5th June 1917, whilst still recovering from this ordeal, Ivor married Marion Walker (born 20.10.1893; Barton St Mary, Gloucestershire). Her father Charles Lindsay and her mother was Annie Sarah Jane Sargent. Charles was a machine fitter at the Gloucester Wagon Works. They honeymooned on the south coast of England.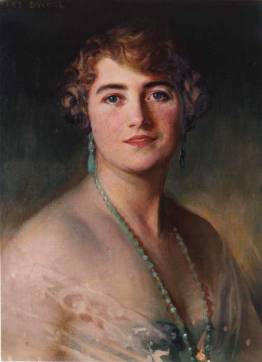 <![if !vml]>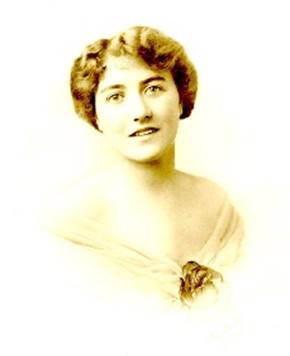 <![endif]>
Pictures of Marion (Musset)
Musset had been working as the secretary on the writer Guy Thorne, 17th November 1917 saw Ivor serving on HMS Lawrence, which had come from the Royal Indian Marine, under Commander Louis H Crozier. He served on this ship until 22nd April 1919.
<![if !vml]>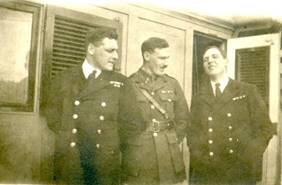 <![endif]>
Ivor (left) with fellow officers on HMS Lawrence
Ivor became a Lieutenant on 25th April 1918. He was demobilised in 1919 but remained in the Royal Navy Reserve, serving as an officer on the Orient Line. On the 24th March 1926 Ivor was awarded the Royal Naval Reserve Officers' Decoration.
<![if !vml]>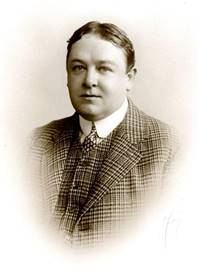 <![endif]>Guy Thorne wrote the following to mark their union and Ivor's return from the Navy:
"Dear Ivor; whom the Pension Sun
Had baked you to a hot (cross) bun,
You sighed for hot dawn clad in russet, (a reference to Hamlet)
Grey skies – good English ale – and Musset!
Nor in your hellish furnace knew
The Purgatory in store for you.
No vision told you of the bed
In that large building by the Med
way's turbid stream. And yet, how odd!
You, by the provenance of God
From Hades to Purgation go,
(Pyjamaless, sans portmanteau)
And lastly, all your sins forgiven,
Find Fitz John's Avenue – and Heaven!!"
Ivor was present at the death of Guy Thorne (Cyril Arthur Edward Ranger Gull) in 9th of January 1923 at 14 Meresfield Gardens. He was the Informant on the Death Certificate.
On 25th April 1926 Ivor was appointed Lieutenant Commander RNR and exactly eight years later he became a Commander RNR.
<![if !vml]>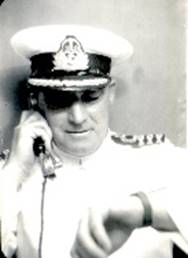 <![endif]>
Ivor in Commander's uniform
Marion and Ivor had four children:
· Marion (Bunty), born at 218 Adelaide Road, Hampstead on the 20th March 1920.
· Heather born Hampstead 25th March 1924, died Ismailia, Egypt on the 28th September 1945.
· Peter Lindsay born 26th June 1925 in Egypt, died Kensington Gore, London on 2nd January 2003.
· Angus Ivor Malcolm born 27th October 1929 in Port Said, Egypt.
Ivor took up a post as a pilot for the Suez Canal Company in around 1924/25, carrying on this work until the early part of WW2. He remained in the Royal Navy Reserve whilst at Suez.
On 6th February 1940 Ivor joined STAG "for Examination Service". This meant that he had to examine ships passing through the Mediterranean Sea, which at this time was controlled by the British. He became an Acting Captain during this time.
<![if !vml]>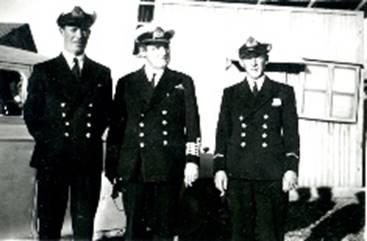 <![endif]>
Ivor in Captain's uniform
Ivor became the British Military Attaché in Turkey during some part the 1941 – 1945 period, reporting to Admiral Cunningham, who was in charge of the Mediterranean fleet.
After the war was over he returned to the Suez Canal as a Pilot, retiring in 1951 to "Balquhidder" near Edenbridge, Kent. He died on 24th April 1952, the day before his 58th birthday.
<![if !vml]>

<![endif]>
Ivor in later life