Helen Blakely, 1907 - 1988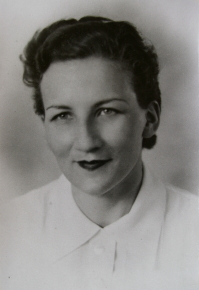 Helen Jane (Jean) Blakely was born on the 4th December 1907 Winnipeg, Manitoba. She was the only daughter of Ethel Macgregor (the youngest daughter of John Macgregor and Sarah Jane Hicks) and Frank D. Blakely.
Jean married James Oliver (born in 1913) on June 13th 1942 and together they had three children:
Judy Patricia Oliver, born; 1943, married John Turner 1967.

Hugh Francis (Kippy) Oliver, born; 1945, died; 1994.

James Douglas Oliver, born 1948.
Between them they had produced nine grandchildren by 1993.
Frank Blakely died on 30th of March 1918 at 252 Maplewood Avenue, Winnipeg, leaving Ethel and Jean. They moved to an apartment in Assinaboine Avenue, Winnipeg. When Jean married James Oliver, Ethel then went to live with her sister Amy.
Jim and Jean Oliver lived on Assinaboine Avenue until they moved to Cornwall, Ontario in 1946. Ethel moved with them to Cornwall and lived with them from then until she moved to a nursing home about 5 years before she died. In 1949 the family moved to 214 Edward Laurin Boulevard, St. Laurent, Montreal, and later 11360 O'Brien Boulevard, Montreal, P.Q. When they moved to Montreal, Hubert and Jean Matthews were already there.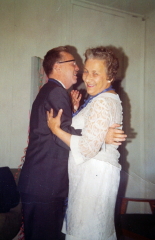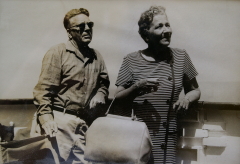 James and Jean in 1968 & 1970
Jean died on August 13th 1988, age 80, and was buried at St. John's Cathedral Cemetery, Winnipeg like her mother and father. James Oliver died in his 80th year on June 20th 1993 in St Laurent.