Victor Willis, 1915 - 1991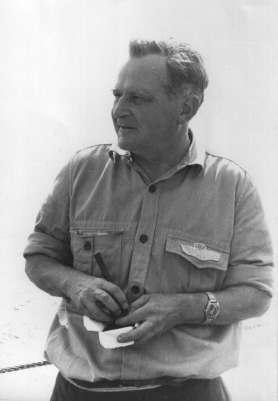 Victor Kenneth Willis (Ken) was born on 31 October 1915. He was the first child of Winifred Mabel Macgregor Willis (nee Yorke) and David Victor Stewart Willis who was a general medical practitioner in Walsall, Staffordshire. They lived at Limehurst, 55 Littleton Street West. When he was quite little, a baby sister, Sheila (or perhaps Shelagh, the Irish spelling) was born but she died in infancy and it wasn't until 1924 when he was almost 9 that his surviving sister, Patricia Winifred was born.
Ken went to school in Walsall attending the Queen Mary Grammar School. He was very keen on cars and radio and he and his friends used the cellar as a workshop. He had a car when he was quite young and was keen on events such as "hill climbs". When he left school he went to work at Colliers', a big motor dealers and engineering works in Yardley, Birmingham where he was intended to learn all aspects of the motor trade. It was here that he met Florence Bristow whom he married in February 1941.
Florence Maud Bristow was the daughter of Captain RA William Dugelby and Mabel Bristow of 38 Charles Road Solihull. She was born in 1903 and worked as a Commercial Secretary. They had one daughter; who is still alive.
In 1939 because he was in the Territorials, he received his call-up papers on 24th August, just before the outbreak of war. He joined the Royal Engineers and worked on searchlights. Ken was attached to the Royal Artillery as a Mechanical Engineer at the time of his wedding in 1941.
Ken's rank at this time was Gunner and his number was 2084055 and in December 1942 he transferred to the Royal Electrical and Mechanical Engineers (REME) and was involved in maintenance of RADAR equipment. He was stationed in London during the blitz and saw other war service in Belgium and Holland. He reached the rank of Staff Sergeant.
Florence continued to work at Colliers into the war; she was secretary to R H Collier. She used to drive for him and, and was lucky enough to drive one of the very early Jaguars (which was known as a "Swallow-bodied Swift"). In the First World War R H Collier had been in the Royal Flying Corps where he was a Colonel. He had served with Beaverbrook who, knowing of the existence of the machine shop, commandeered it to produce spare parts for aircraft in WW2. Collier became "Director of Aircraft Production" and Florence continued as his secretary until the birth of her daughter Wendy in 1941.
After the war Ken worked as an electrical engineer and then with televisions, a growing business at the time. In 1956 the family moved to Cornwall, buying a TV and electrical business in Truro. After a few years he sold the business and worked on installation of radio communications in the fishing fleet and after that with computers at a printing works in Falmouth.
Family holidays spent in Cornwall when Ken was young had involved fishing trips and boats, which began a life-long interest in ships and the sea. Whilst living in the Midlands he had a cruiser on the River Avon and after moving to Cornwall he had sailing boats. He was a member of the Royal Naval Auxiliary Service (RNXS) where he attained the rank of Captain enabling him to skipper Fleet Auxiliary vessels which he sailed around the South West coast, to France and the Channel Islands.
Ken's other interest; radio, led to his becoming a radio 'ham' and through this he made contacts throughout Europe and Africa. He was a member of Raynet, the Radio Amateurs Emergency Network who provide radio cover for special events and in emergency situations.
When Ken died, in April 1991, the RNXS accorded him the honour of burial (of his ashes) at sea with full naval honours. Florence died in October 2007.