Peter MACGREGOR 1811-1862
Peter Macgregor was christened on the 22nd August 1811 at Comrie, Perthshire. He was the fifth son of James Macgregor a clockmaker and Annie McNicol. He also had three elder sisters. His father was originally from Aberfoyle and qualified as a clockmaker. He and the family moved through Balfron, Fintry and Comrie working all the time as an engineer in the cotton mills that were developing in these parts of the Highlands.
With the family, Peter moved to Glasgow and became a foundryman. In 1834, when the Clyde Foundry was established in Warrock Street, Peter, at 23, probably started working with his brother John at this time.
On the 31st of December 1839, he married Ann Jardon, who was born in Berwickshire in 1820 to Master Mariner; Alexander Jardon and Elizabeth. In the 1841 census he was found at Warrock Street, with Ann. They appear to have had a son, James, on the 28th August 1840. Strangely he is not listed in the 1841 Census.
The Clyde Foundary was obviously successful, and Peter went on to open his own brass foundry at 81 Clyde Street between 1841 & 1845. After 1848 he moved the brass foundry to 187 Finnieston Street - although 118 Clyde Street is mentioned in 1851. In 1851 he was employing 17 men.
Peter lived first at Warrock Street (1841), then at Hyde Park Corner. By 1851 he was living at 7 Franklin Terrace, Partick Road, moving to 267 in 1856. He bought 5 Fitzroy Place between 1858 and 1861 and was there at the time of the 1861 census with Anne and two nieces; Henrietta Wilson (the daughter of Peter's sister Catherine) and Ann Bell (the daughter of Ann's sister Jane).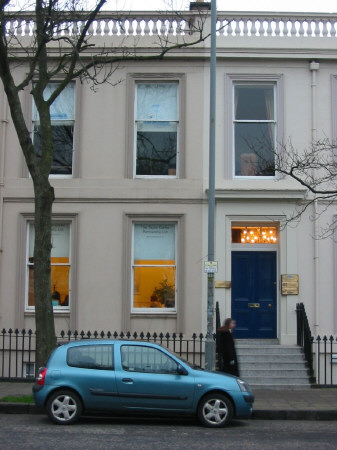 5 Fitzroy Place
Peter died after two months of pneumonia on the 26th April 1862. Ann Jardon died of Apoplexy on the 19th February 1863.